Crafting for a Cause is a program we do with
Someday Crafts
where each month we highlight a charity, and find projects we can all do to help their cause. We do not have a lot of money at our disposal, but we would like to share our talents to in some way do good for others. We would love LOVE for you to join us. On this page you can find out information on the charity we are spotlighting this month, and more importantly how you can help.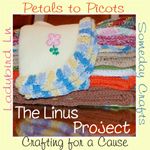 I like to Party at these
places
!
Someday Crafts
), and I are teaming up with the fabulous Kristy from
Hopeful Threads
to bring you an AMAZING project.
Kristy's fun little blog is all about service! EACH month that you can help out with... She is also constantly giving fun prizes away!
This month we are doing a project where you can help kids in your community with school supplies HERE. Or/and you can help girls in different countries with feminine care items in other countries so they have the opportunity to participate in school all of the time.
Please consider donating to a specific child in need or your own child's classroom. If you pause for a second, I'm sure you can instantly think of how this simple gesture could be a huge help! You can ask the teachers what supplies she might need for the class as well. School Supplies are CHEAPEST right before school. As a teacher I can attest that their are many kids, probably in your own school that can not afford the list of school supplies, or for whatever reason does not have a family that is willing to do so. In my years of teachers there were always those few parents who would go the extra mile, buy extra supplies, or even give money when needed.
Additionally, here is a list of other places to find free cloth pad patterns/tutorials:
Who knew there was all this need, and resources. If you know of a local church or organization traveling for a mission trip, this is an easy to carry, light-weight donation that would be meaningful to women of all ages. Kristy from Hopeful Threads will be sending the pads I make to a missionary I am connected with in Cambodia.
It does not need to be anything fancy, just something from the heart! I am still deciding
what to make to send them. I am debating over making a hooded towel, or a cosmetic snap purse.
I hope you will all help out for this wonderful cause! Really what better cause could their be then giving a child a life with a caring supportive family? I hope you will consider helping out the Funkhouser family with their adoption!