Welcome to the Weekend!
First off, I have been so overwhelmingly busy the last few weeks, sorry for the lack of posts, during the spring and summer my goal is to get one new craft or recipe tutorial up per week, I have to slow it down a little to stay sane and enjoy the sunshine.
I have a great blogger here today! It is my friend Kara from Happy Go Lucky, she was one of my first blogging friends, and a loyal Weekend Show Off guest, so I am so excited to introduce you all to her fun blog, if you do not know her already!
Hi all you lovely Ladybird Ln readers! I love partying here every weekend so I'm super excited to be featured as the blog of the week. Plus, I've been a huge Ladybird Ln fan since I first started blogging so this has made my whole week!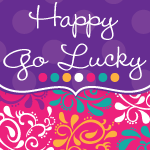 My name is Kara and I blog over at
Happy Go Lucky
. I'm a 6th grade reading teacher, Navy wife and mother to a very spunky 3 year old. I started my blog to help pass the time while my husband was out to sea. I love sharing easy and inexpensive craft ideas, DIY projects and activities the entire family can enjoy.
Let me show you a few of my favorite projects:
I recently shared this fruit bowl. Can you guess what I used to make it? It's a vinyl record wrapped in jute:)
I love making jewelry! Here are some earrings I made recently.
I also love creating and sharing fun printables with everyone.
If you get a chance, I would love for you to come visit me. I love making new friends, reading new blogs and being inspired!
Thank you Carlee for having me today. I'm truly honored!
I hope everybody has a wonderful weekend.