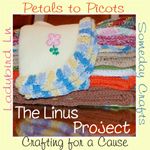 It is now time to link up your blanket creations, you are going to donate to the Linus Project!
Project Linus is an amazing organization that collects handmade blankets and distributes them to children who are seriously ill, traumatized, or otherwise in need. Inspired by Charles Schulz's PEANUTS® character, Linus, Project Linus's mission is to provide comfort to these children with the help of a security blanket. Volunteers, or "blanketeers" as they are lovingly referred to, from all over the country create, collect, and distribute these handmade blankets.
Since Project Linus began in 1995, there have been over 4 million blankets delivered to children in need, and there are now close to 400 chapters nationwide. Project Linus receives thousands of letters and thank you notes every year from children and their families who are touched that a stranger would take the time to make something for them.
You can find out more information HERE.
I wanted to leave you with a story of someone who received a Linus Blanket, while at the hospital.
Lily was an 8 month old who entered into the Arizona Burn Center with a soup scald burn to her leg and diaper area. Her mom was overly distraught, and attempting to console both the hurting infant, as well as herself. I walked into this situation, and immediately acted. For a child of this young age, music, parent comfort holds/touch, and comforting items such as blankets and binkies are the best support.

While mom was rocking the child in her arms, and the nurse working to address her wound care, I ran to our Andrea's Closet storage area, and selected a soft Project Linus blanket. As soon as Lily's mom saw the beautiful blanket, she burst into tears. Gently swaddling her little one in the blanket, she started singing to her, and I joined in. That child was able to remain calm throughout her burn wound cleaning and rebandaging - - remarkable for an 8 month old!

Mom and Lily left with words of gratitude not only for their burn care...but for those who made such beautiful blankets of comfort - - kudos to you, Project Linus members!!!
Nothing is more comforting then a warm blanket, and making a blanket DOES NOT have to be difficult. With your child you could make fleece blankets, use your scraps up and make a couple of baby blankets. Every blanket makes a difference in someones life!
Please link up your blankets HERE. Please only link up blankets you intend to donate to the Linus Project, or another blanket donation project.

I will randomly choose one link from this party, and give them a complete Facebook makeover, includeing a timeline cover, and two custom pages.. or if Facebook is not your thing, I can do some other form of Graphic design for you!
I know this isn't much, I just want in some way to express my gratitude to those who give back!
Also check out Kara of Petal's and Picots Facebook page for a chance to win even more awesome prizes!