Sometimes good old fashioned Spaghetti needs a change up to add some interest to your weeknight routine. I found this recipe from a really fun blog called
Mommy? I'm Hungry
. I am sure glad I found this blog, it is my newest blog crush, we have very similar baking styles, in fact my kids can not get enough of her
Loaded Nachos
!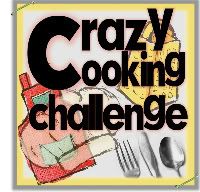 This months
Crazy Cooking Challenge
hosted by
Moms Crazy Cooking
is Spaghetti. Spaghetti is a staple at our house, and this spaghetti Casserole was a fun way to change it up!
Spaghetti Casserole
1 pkg (16 ounces) angel hair pasta
1 1/2 pounds ground beef
1 jar (26 ounces) spaghetti sauce
2 cans (8 ounces each) tomato sauce
1 can cream of mushroom soup
16 ounces light sour cream
3 cups shredded Colby-Monterey Jack cheese (I substituted Mozerrella)
-Cook pasta al dente. Or slightly shorter time than directed on pkg
, until almost done.
-Meanwhile, in a large skillet brown beef (I added some onions, and garlic cloves) and drain. Stir in spaghetti sauce and tomato sauce.
-Remove from heat. Stir together cream of mushroom soup and sour cream.
-In two 8x11 pans (one freezer), layer half the meat sauce, pasta, sour cream mix and cheese. Repeat layers.
-Bake 350' for 35 minutes, covered.
Freezer Cooking:
Cover tightly plastic wrap, and then cover with foil and freeze up to 3 months.
To use frozen casserole: Thaw in refrigerator. Bake at 350 degrees for 1 hour.
The result... My family really liked it! The flavor combinations were great, and it was very simple to make! You can see all of the
Crazy Cooking Challenge
Spaghetti Posts below... ENJOY!
I like to
LINK
to these fabulous Parties!