Did the week go by already? my goodness!
Thanks everyone for joining in the fun! Do you want to see a sneak peak of an upcoming blog post? I sure hope so because you get to anyway!
I am so excited to introduce our blog of the week, Christie of Christie Cuties!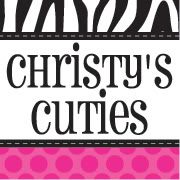 My name is Christy, and I am addicted to all things bloggy, crafty, and thrifty! I blog over at
Christy's Cuties
. I'm basically a "baby" blogger. I started to blog in April of this year. And I have never had more fun, or made more friends in such a short period of time. Do you all realize how many amazing people you are able to meet in the bloggy world?? I had no idea!
I am a Wife to a handsome Military Man. A momma to three adorable kiddos. Luke is 7, Kaleb is 5, and my only girl Riley is 3. I'm also a Psychology major in College. In my spare time, I like to blog about what I've been up to around my crazy house!
I like to blog about just about anything. The top of my list would be anything I think to be a cutie! Perhaps
this
shirt.
Or possibly something for my kiddos....maybe
this pillow.
I also love all things that have to do with saving money, please welcome my
Coupon Binder
!
I would absolutely be on cloud nine if you all would come and take a look see at what I do! Thank you all so much....and SPECIAL thanks to Ladybird Ln.
Have A Wonderful Day!!
Thanks Christy, I am excited to see what you have been up to!