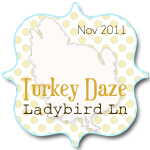 I am so excited to introduce Stephanie and
My Li'l Pumpkin Patch
... this blog is always a favorite at the Weekend Show Off Parties, I really love her style!
____________________________________________________
Hey Ladybird Ln readers! I am so excited to be here guest posting for Turkey Daze! My name is Stephanie, and I blog over at
My Li'l Pumpkin Patch
. I love to create and love to be frugal, and that's basically what my blog is about!
Today, I am going to show you my Turkey decor that I recently made. I have had this project sitting in my craft closet for about 2 years, so I was so happy to have some motivation to finally finish it!
My mom actually bought the kit for me, so everything was pre-cut and sanded (bonus!). All I did was paint and mod podge. It was super easy, and shouldn't have taken me so long to finish!
I chose some coordinating scrapbook paper to add a fun pattern to the turkey and the wings. I cut each piece slightly smaller than the wood and mod podged them on.
Then, I figured out my layout, and screwed the wings to the head, using my handy dandy drill.
A couple pieces of wood split, so thankfully, I had some brackets leftover from another project that fixed the mistake. If I did this again, I would drill holes first so the wood doesn't split.
Doesn't the back look so pretty? Just kidding.
I decided to use some jute twine to hang it up with, so I screwed in some screws in the yellow and orange wings, and tied the twine around them, and hot glued the ends down to keep them from poking out of the side. I also hot glued on the beak, gobbler and buttons for eyes.
I am really happy with how Tom turned out, and I am so excited to finally have him hanging on my wall!
Hope everyone has a Happy Turkey Day!!!
Thanks Stephanie, that is such a cute little turkey!! Please take a minute to visit her fun blog,
My Li'l Pumpkin Patch
!