I hope you all had a WONDERFUL Thanksgiving! When it comes to the things that matter most, I am one lucky gal! We had a great Thanksgiving! We have been sick intermittently the last week, and last night my littlest gal got it, so we are having a relaxing black Friday! With all the excitement of the Holidays I thought I would wait a week for the Weekend Show Off Party.
My favorite thing we do here at Ladybird Ln without a doubt is
Crafting for a Cause
. If you are new to this blog, each month we highlight a charity, and find projects we can all do to help their cause. We do not have a lot of money at our disposal, but we would like to share our talents to in some way do good for others. We would love LOVE for you to join us.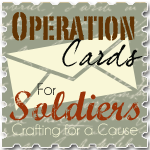 Novembers project is very near and dear to my heart. So many soldiers around the country, leave the comfort of home, friends, and family, to serve in the military. This month I am spotlighting a wonderful organization Operation Christmas Cards. The mission of Operation Christmas Card is
to "love our troops one card at a time" to ensure that each of our service members know they are appreciated, supported and loved by the very people they are sacrificing their lives to fight for. I know you would love to help out!
If you have a spare HOUR or even minute, I would love for you and your family and friends, to write Christmas Cards for Soldiers. It would be a great project to do during Thanksgiving Weekend with Family and Friends!
The other day my heart melted when I received the following comment on my blog:
I just wanted to say Thank you. I am a soldier in Afghanistan currently and stuff like this is amazing. I know that all my brothers and sisters in arms love reciving mail from strangers who care. This just makes me so happy and helps remind me, why I'm doing this. So from a PFC in Afghanistan, I say thank you to each and every person participating in this! You are appreciated!
<3 PFC McClure, Jenn
jenn-mcclure.blogspot.com
Let's get together, and show our appreciation for the PEOPLE who protect our freedom.
In one Happy Hour my daughter and I were able to create 10 Christmas Cards, using Materials we had on hand. You do not even need to make the Christmas Cards, if you have extra store bought cards they would work great~~ But we wanted to get Crafty of Course.
My daughter was the artist, I put the card together.
I did not want her darling picture to fall off the card, so I used bright red thread to sew the picture on to the card. This adds a little whimsy and is a practical and easy embellishment!
Write a Christmas message to a soldier, and you almost there!!
Now we just need to send these cards in bulk to
Operation Christmas Cards, and they will make sure it gets to a Soldier this Christmas, and they take care of all the shipping.
For more information on the specifics visit this POST.
They need your cards by the 28th of November, so please act fast!
I would love for you to join this fabulous cause!
I like to
LINK
at these parties!