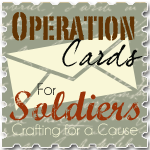 I am so excited for October-Novembers Crafting for a Cause project! It is very near and dear to my heart. So many soldiers around the country, leave the comfort of home, friends, and family, to serve in the military. This month I am spotlighting a wonderful organization Operation Christmas Cards. The mission of Operation Christmas Card is
to "love our troops one card at a time" to ensure that each of our service members know they are appreciated, supported and loved by the very people they are sacrificing their lives to fight for.
I can't think of anything better then sending a card to a soldier expressing thanks for our freedom during the Holiday season. Who is with me?
Participation is very easy and we encourage everyone to help. This
would be a great project to do as a family, church group, work group, etc. Operation Christmas Cards welcomes cards of ALL faiths from anywhere around the world! The cards can be store bought or home made, but we ask that they are no bigger than 9x9 to fit into shipping boxes.
Do's and Dont's :

-do
NOT
seal the envelopes
-only write supportive and encouraging notes
-you may include email or mailing address
-stickers and glitter are OK
-envelopes may be decorated
-if mailing large quantities please ship in bulk. Its cheaper for you and easier for us.
-Please include the total amount of cards you send if mailing multiples. It helps us greatly!
You do not need to include money for postage. Operation Christmas Cards sends the cards in bulk. Shipping is expensive and you can donate money for shipping if you would like on their site.
Operation Christmas Cards Needs the Cards by November 28th!
Cards and donations can be mailed to:
Operation Christmas Cards
PO Box 102
Shrewsbury MA 01545
or if using UPS/FedEx/DHL etc.:
Liberty Churches
ATTN:Operation Christmas Cards
495 Hartford Turnpike
Shrewsbury MA 01545
At the end of November Someday Crafts and I will have our Crafting for a Cause Linky party, and would love to see what you have come up with. Please help us spread the word by posting a Operation Cards for Soldiers button to your blog! If you participate let us know how many cards you donated so we can keep a tab!