Welcome to the Weekend! Yippee for Friday!! So I think I must be missing something probably somewhat obvious... I go to link up parties, and it says linky party #39. I think to myself really... How do they remember that? I have been doing this link up party since the end of May, and already off track. I know their must be some way to see what linky party you are on... but I am a little clueless, any suggestions? SO for now I am just going by the date!
I am excited to introduce to you the Blog of the Week... Faces with Freckles, such a cute new blog, be sure to check them out!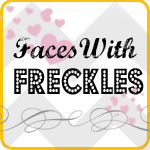 Thank you, Carlee, for featuring
Faces With Freckles
this week! I am new to blogging, and have to admit I'm pretty excited ~ and a little bit nervous to be featured. There are some awe-some blogs out there!
I am a mom of 2 beautiful little girls (7 and 3), a second grade teacher (going on 12 years!) married to a wonderful tech-savvy-piano man, soccer coach, cook, gardener.....etc.! I keep very busy! Never a dull moment!
Thanks to my sweet grandmother and aunt (and those incredible blogs) I have recently re-discovered my love to create. As of late, I have been obsessed loving to sew! I love all the pretty colors, textures and patterns.
Faces With Freckles is a blog about the things I love best. So, you will find my family, sewing, craft projects, a little bit of cooking and some of the happenings in my classroom. I have found that blogging is a wonderful outlet for me to share my thoughts and connect with others who have the same passions.
Thank you Shannon, can I just say Oh la la (we are big Fancy Nancy fans at our house) I love her
Paris inspired purse
she just posted, too cute! My daughter would love this!
Now I can not wait to see what you have created, seriously I look forward to this every week!